Monroe County Countywide Active Transportation Plan
Monroe County and the Genesee Transportation Council have partnered in an effort to develop a Countywide Active Transportation Plan (CATP) for Monroe County. The CATP will provide the County with an equity-focused, data-driven framework for achieving desired changes to the County's non-motorized transportation network. This may include recommendations for new or revised policies, tools for decision-makers, and/or transportation infrastructure investments.
​The Monroe County CATP will build upon recent and ongoing transportation planning initiatives, including, but not limited to, the City of Rochester Comprehensive Access Mobility Plan (2020), Monroe County Complete Streets Policy (2020), County's "Carrie Ray's 3-Foot Passing Law" (2021), Reconnect Rochester's "Transportation and Poverty in Monroe County" (2018), multiple town/village-scaled Active Transportation Plans, and the concurrent development of the Rochester Active Transportation Master Plan. In addition to incorporating these efforts, the Plan will aim to strike a balance between several community planning priorities, including racial equity/social justice, sustainability, and accessibility. A central goal of the Monroe County CATP is to identify equitable active transportation solutions and provide a roadmap for the County to improve the active transportation infrastructure.
Final Report: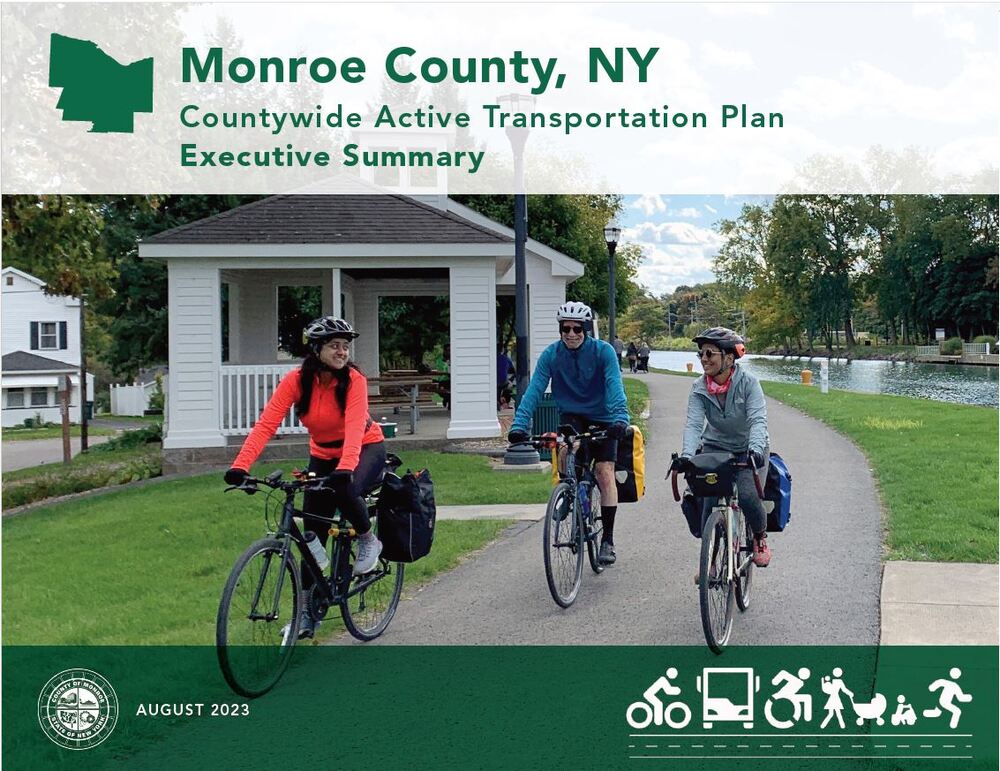 PROJECT SCOPE & SCHEDULE
| | |
| --- | --- |
| Public Engagement | Started in May 2022 (on-going) |
| Existing Conditions Analysis | Completed in July 2022 |
| Needs Assessment | Completed in September 2022 |
| Network Improvement Concepts and Policy Recommendations | Completed in December 2022 |
| Implementation Strategies | Completed in March 2023 |
| Development of Final Report | Completed in August 2023 |
PROJECT DOCUMENTS
Final Memos and Supporting Documents:
Project Advisory Committee (PAC) Meetings:
Public Workshops:
Project Brochure:
2-page Flyer and Poster
CONTACT
Yixuan Lin, AICP | Senior Planner | [email protected]