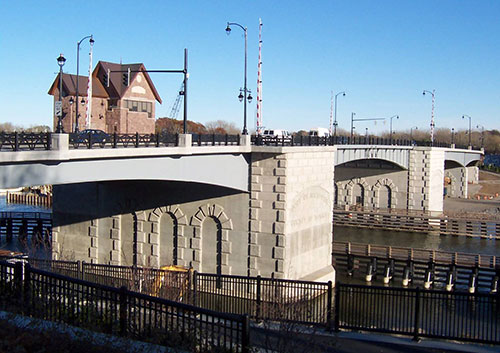 The Monroe County DOT Bridge Engineering and Operations division is comprised of four sections:
Capital bridge programming, engineering and construction
Bridge maintenance, programming, engineering and construction
Colonel Patrick O'Rorke Bridge and Irondequoit Bay Outlet Bridge operation
Bridge/culvert inspections
The Capital Bridge Engineering section is responsible for the programming, administration, design and construction supervision of the capital bridge and culvert improvement programs.
The Bridge Maintenance section oversees the inspections of our bridges/culverts, identifies the needs and completes the annual preventative maintenance program, manages the guiderail inspection/design, installation and repair and herbicide contracts.
The Bridge Engineering and Operations section is responsible for the planning, engineering, inspection and maintenance of over 175 bridges and nearly 275 major culverts, including the operation and maintenance of the Colonel Patrick O'Rorke Memorial Bridge and the Irondequoit Bay Outlet Bridge.
Helpful documents & maps:
Bridge operation videos:
Bridges of interest: